When choosing furnishings for your projects or locations, cost and design are usually the prime factors to weigh. Most of the site furnishings are for outdoor areas, picking the right materials for specific applications should also take into consideration before placing the order.
From benches, picnic tables to trash cans and bike racks, commonly used materials for outdoor furniture can withstand the weather in any part of the world, but some work better in certain regions and climates. Choosing the right material based on your situation is pivotal to optimize the products' durability and maximize their lifecycles.
Steel
Steel is an alloy of iron and carbon. It is lighter than wrought iron but heavier than aluminum. Its hefty weight provides a sturdy, stable, and long-lasting construction. Steel furniture can endure extreme temperatures and does not dent easily as lightweight aluminum. Steel is strong and hard to break. It is recyclable and can be hot-dip galvanized to prevent corrosion. Steel materials electro-coated with anti-corrosion treatment and finished with UV resistant powder-coating can last for decades and require little if any maintenance.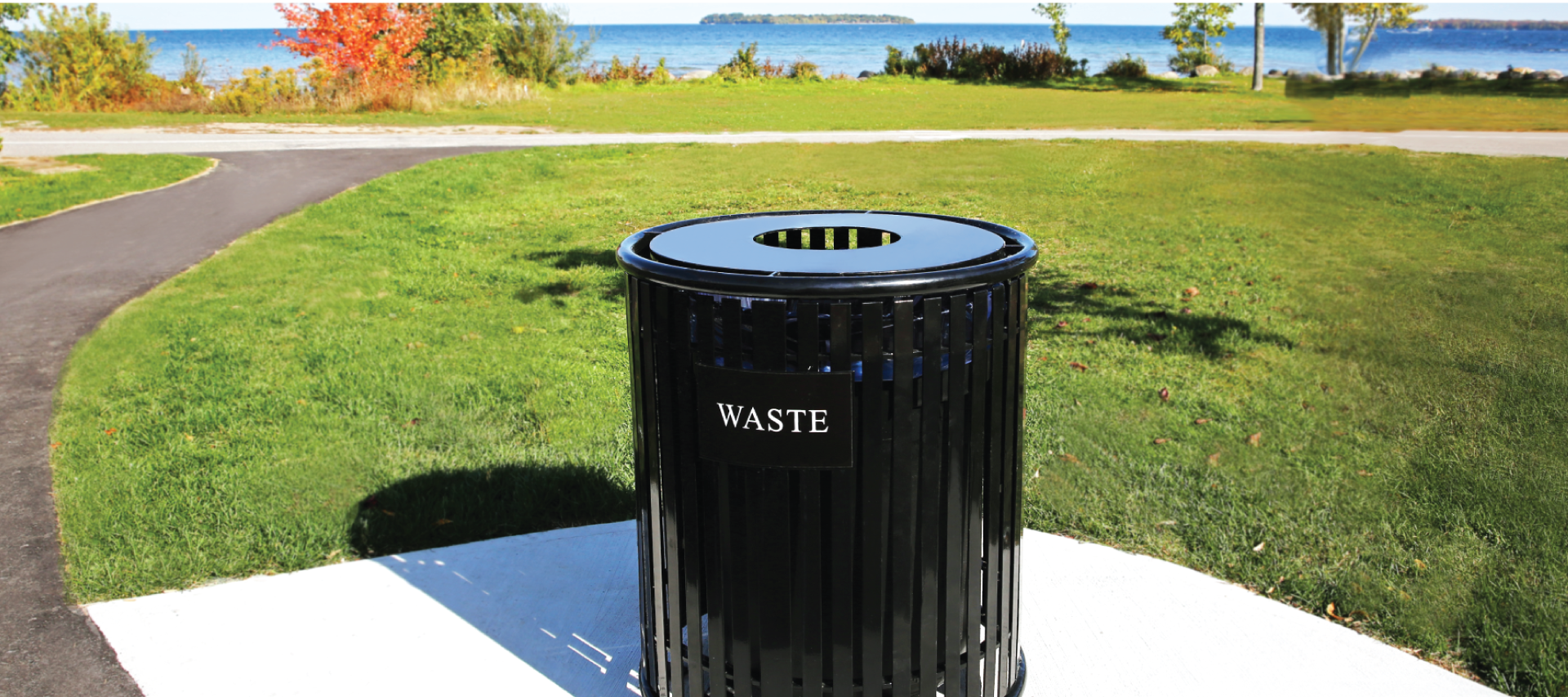 Tips for maintenance
Clean with a cloth and mild detergent to wash away dust and pollen.
Canaan's multi-step process makes our furniture beautiful and durable for years of active use with minimal maintenance.
Check the wear of the products periodically. When coatings are scratched or damaged, the surface must be repaired, or the metal beneath may begin to corrode.
Treat the chips in the coating immediately to limit exposure to the elements.
Stainless Steel
Stainless steel is an iron-base alloy with a minimum of 10.5% chromium. It's a durable and low maintenance material and often the most cost-effective choice for applications on certain furnishings like bike racks, ashtrays, stanchions, and wet floor signs which require a pleasing appearance as well as exceptional durability and minimal maintenance.
Stainless steel is corrosion and oxidation resistant and easily maintained. It will retain its distinctive luster even if exposed to harsh outdoor conditions. You can simply say stainless steel furniture has it all – the look, convenience, low maintenance, sturdiness, extreme durability and is environmentally friendly.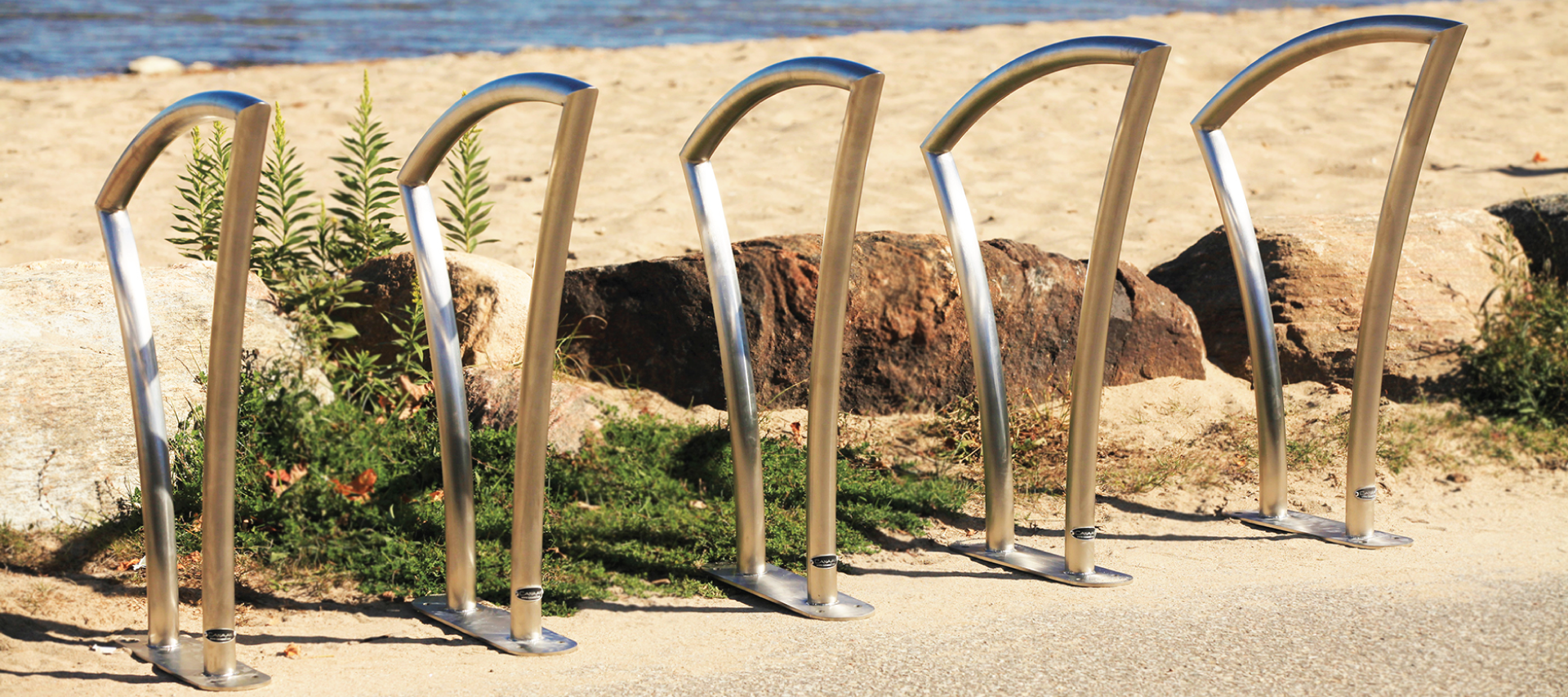 Tips for maintenance
Clean your stainless steel furniture as soon as it gets dirty to restore its attractive luster and prevent the build-up of grime.
Use a soft cloth and mild detergent. Avoid harsh chemicals, abrasive cleansers, and scrubbing sponges.
Wrought Iron and Cast Iron
Wrought iron and cast iron have their distinctive properties which determine their different applications on a component. The material is prized for its distinctive features and wind-resistant sturdiness.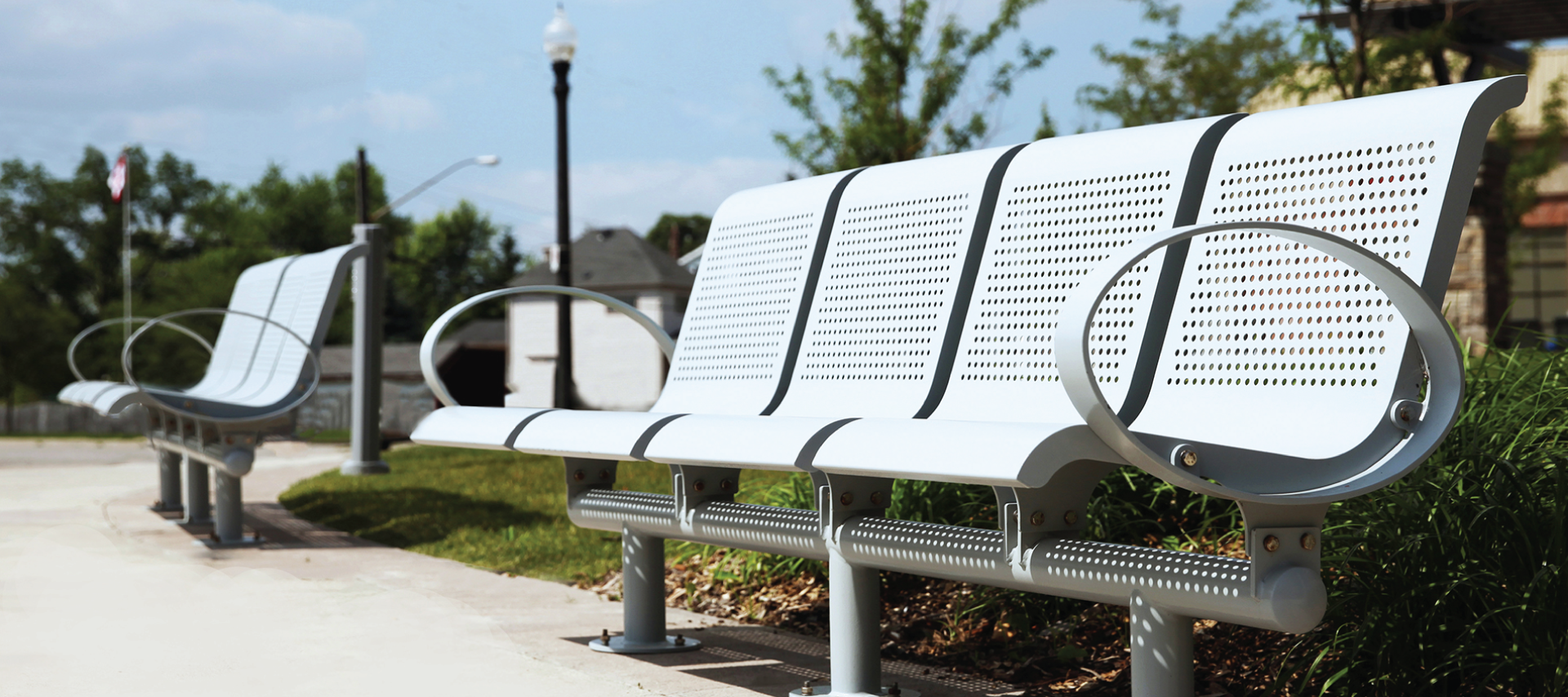 Wrought iron is a relatively pure iron alloy with less than 0.08% carbon. It's heavier than steel and aluminum and is strong in both tension and compression. Given its unique properties and high melting point, wrought iron is extremely tough, malleable, ductile, and corrosion-resistant. It can be painted with the desire powder-coated color for further protection from moisture.
Cast iron is an iron alloy with more than 2% carbon. With its low melting point, good fluidity, and resistance to deformation, cast iron is desirable for precision-made molds to produce intricate structural shapes/frames in site furnishings. Cast iron designs are usually more detailed and accurate. It can be hot-dip galvanized and finished with UV-resistant powder coating to prevent corrosion.
Tips for maintenance
Clean with a damp cloth and soapy water to remove dirt and dust.
To spot rust, sand the area, clean with mild soapy water, then seal with a similarly colored paint.
Aluminum
Aluminum is a relatively soft, lightweight, ductile, and malleable material that resists rust and moisture damage better than other metals. It's easy to rearrange and store due to its lightweight construction. Cast and wrought aluminum have become the most commonly used outdoor furniture material. Despite its lightweight properties, cast and wrought aluminum are strong enough to withstand wind and weather. Aluminum furniture's UV-resistant powder coating added protection against the elements.
Tips for maintenance
Clean with clear water or a mild soapy mixture to remove dust and dirt.
Maintain the finish by touching up chips in the paint to avoid oxidation.
Recycled Plastic
Recycled plastic lumber is an extremely durable and sustainable material, often requires minimal maintenance and no finishing needed. It comes in a variety of colors and styles and is appropriate for any environment. It is resistant to moisture, rotting, decay, and cracking and is impervious to saltwater, stains, and unaffected by termites, rodents, worms, marine parasites, or other insects. It also resists fading as its color is intrinsic to the material. Best of all, a high percentage of its components are post-consumer materials and will contribute to LEED certification.
The most commonly used plastics in site furniture:
High-density polyethylene (HDPE) is readily recyclable and can be recycled many times without a significant change in properties. It produces fewer pollutants than PVC or ABS and waste can be recycled in the manufacturing process. HDPE plastic lumber is used in bench slats, litter receptacles, and tree grates.
Low-density polyethylene (LDPE) has similar recycling characteristics to HDPE and is widely recycled into plastic lumbers with HDPE (the mix is less expensive than 100% HDPE but subject to down-cycling to a lower-grade product after multiple recycles). It's used alone in some site furniture including benches, picnic tables, and bollards, but has lower tensile strength and density than HDPE.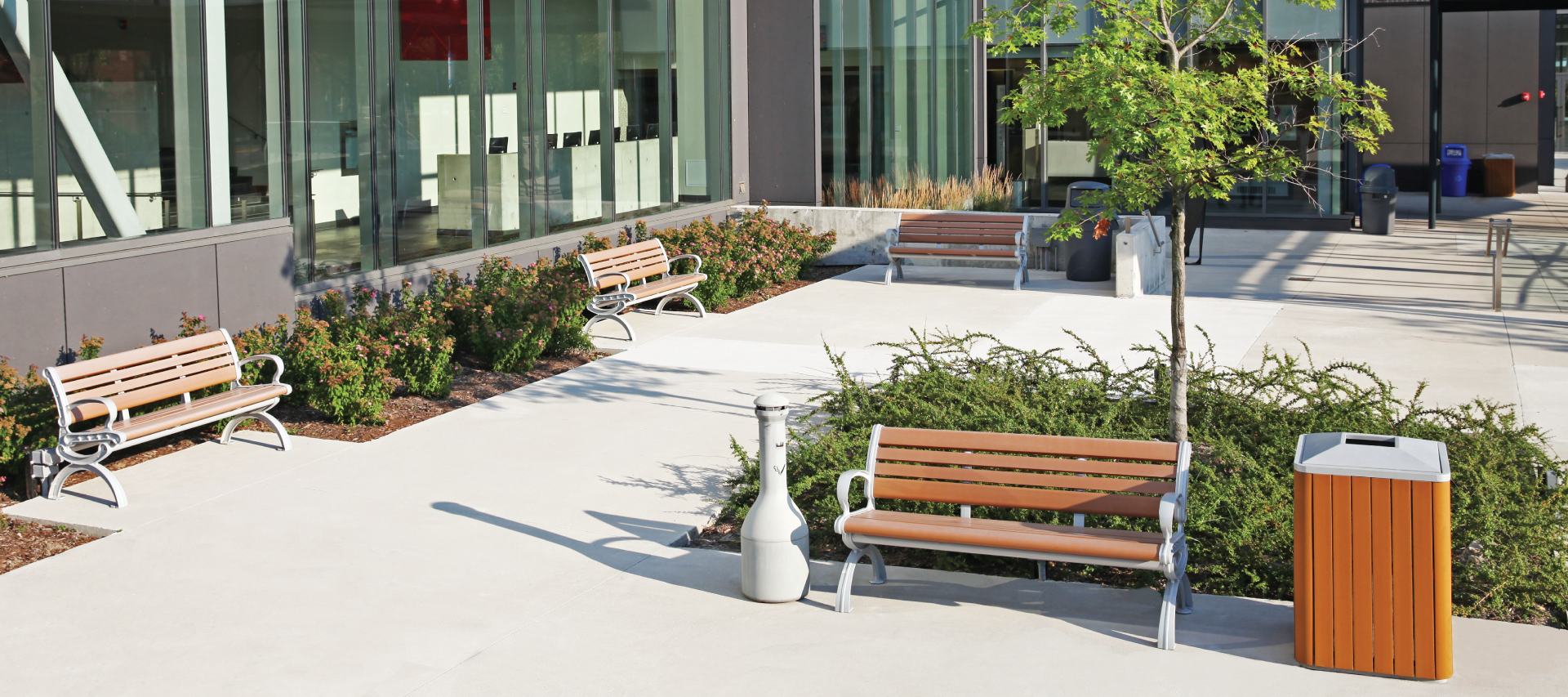 Tips for maintenance
Clean with clear water or mild soapy mixture to remove dust, dirt, and pollen.
Wood
Natural wood furniture brings warmth and a casual feel to the outdoor environment. The ageless natural beauty is often the reason for its popularity. Pine, cedar, fir, and redwood are softer woods with some degree of natural weather resistance. Hardwoods such as teak offer exceptional durability and performance.
Most finishes on wood will off-gas volatile organic compounds (VOCs), and the chemical treatments limit the reuse and disposal of wood. The best environmental practice is to select good and durable wood from responsibly managed and monitored forests and leave it unfinished. Untreated hardwood will wear and weather to an attractive patina. Shrinking and swelling of wood throughout the changing seasons is also another issue to be considered when choosing different wood materials.
Tips for maintenance
Sealed wood, clean with mild soapy water mixture to remove dirt, dust, and pollen.
Painted wood, avoid exposure to moisture, clean with a damp cloth.
Untreated wood, clean with a lightly damp cloth.
Sunscreens and bird droppings should be cleaned off as soon as possible. They may lead to particular damages and permanent stains and corrosion.