Accessibility and ADA Compliance
---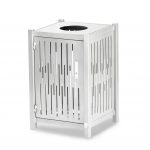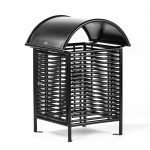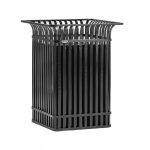 Canaan provides consumers with accessibility and ADA compliance regulated site furnishings for different types of consumers to be included in their community. We have researched different ADA and AODA compliances in multiple cities across North America before coming up with the designs to make sure our furnishings will fit everyone's needs.
As the standard to receptacle in outdoor public environment is not specified in Americans with Disabilities Act (ADA) Standards nor Accessibility for Ontarians with Disabilities Act, we use the standards set by local municipality as reference. Canaan's trash and recycling receptacles complies with the City of Toronto Accessibility Design Guidelines Section 1.49 and 1.6.4 standards.
Mounting
All models allow free standing option; however, it is recommended to secure surface or in-ground mount in busy locations and open areas such as parks and beaches. Receptacles should be mounted on concrete pads. Paving should be level, firm, free draining and easy to wash down.
Labels
Receptacles are clearly identified by respective signs, decals, and colors. They are designed to be unobtrusive and aid people who have visual limitations.
Door Opening/ Liner
Containers should be large enough to contain anticipated quantity of waste in any one location. Both door opening and liner are ergonomically designed for people to access the unit without excessive lifting.
Deposit Access Opening
The height of deposit access opening should be accessible to all ages and people using mobility aids. The opening is no higher than 1065mm from ground. The lids or rims can be easily operated with one hand. Some prefer to remove it in case the material sits or gets caught on; however it does provide the functionality for animal and pest control.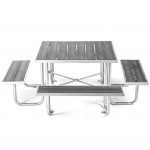 Our picnic table accessibility design guidelines are based on references from three Ontario municipalities' practices, City of Ottawa's Section 6.14.1, Toronto's section 1.3.11 and Mississauga's Section4.3.16. The design must provide an equivalent level of safety and accessibility for persons of all ages and disabilities. The table emphasizes dignity and independence of approaching persons using mobility aids. The company complies with the mentioned municipalities' standards and demonstrate the adequate knee and armrest clearance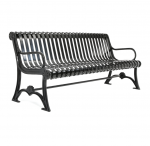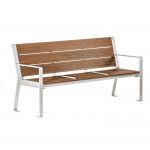 The standard requirements for benches to comply with Americans with Disabilities (ADA) is not specified, we instead followed the standard for benches to be AODA compliant. Example requirements is to have ample backrest and armrest. The armrest provides ease of ingress and egress for the user. The bench should have a minimum seat height of 405 mm-500 mm from the ground and a backrest with an estimated height of 450 mm. The armrest should be an estimate of 150 mm from the seat. These measurements allows easy transfer for the user. The benches should be located to one side of public walkways or paths and should be mounted on a firm and level base.
Installing the bench should also be AODA compliant, where a space should be available beside the bench for at least one person using a wheelchair or a scooter. The minimum clearance should be an are of 1015 mm by 1220 mm. That said space should have a firm base to hold the weight of the person on the wheelchair or scooter